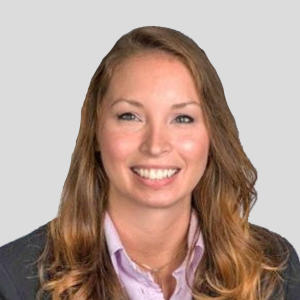 Audrey Ewen
Program Manager
Audrey Ewen is a Program Manager in Nexant's Utility Services business unit located in the Louisville, CO office. She brings 13 years of energy efficiency, demand response, and renewable energy experience to the team. Her experience spans all areas of energy efficiency from design and evaluation of programs to program implementation. She also has experience with renewable energy programs and successfully led the launch of the Rooftop Solar program to assist residential and commercial customers with the decision to add solar to their homes and facilities with custom analyses, discussions, and connections to contractors or other resources.
Prior to coming to Nexant, Audrey worked at Georgia Power/ Southern Company for nearly a decade which allows her to bring valuable utility experience to the team. While working at Georgia Power, Audrey designed and launched two new pilot programs. Before her tenure at the utility she worked as a consultant designing and evaluating energy efficiency and demand response programs. Overall, she brings a wealth of project management, vendor management, marketing, regulatory, customer service, and communication skills to the team.
She currently manages Platte River Power Authority's (PRPA) Large Customer and Energy Management programs, and the Consumers Energy Building Tune-Up Retro-commissioning (RCx) Program for Nexant.
Areas of Expertise
Program Management: Providing strategic program design and management of program implementation; creation of metrics and client reports; leading project communication and updates; ensuring compliance with DSM program rules; working directly with service providers, vendors, and customers on projects ensuring high customer satisfaction; and implementation of innovative pilot programs. Overall her goal is to always provide high-quality and cost-effective deliverables to clients.
Strategic Process Improvement: Review current processes, manuals, databases to strategically revamp documents; employ new streamlined processes for programs by understanding the pain points and strengths of the team; develop marketing plans to assist in launching new programs to achieve program goals; and team development through consistent communication and encouragement for feedback.
Demand Response: Designing and launching effective Demand Response (DR) Thermostat, switch, and water heater programs. Evaluating and verifying DR program results and recommending improvements to achieve high levels of program adoption.
Renewable Energy – Solar: Designed and implemented Rooftop solar program. Experience includes creating rate analysis, spreadsheet tools, and testing industry solar layout platforms. Working in the regulatory environment to ensure solar program adoption – briefing card creation, witness preparation, review of testimony, and data request management. Launched program and became the Solar Energy Expert conducting analyses and reviewing results with customers to a high level of customer satisfaction.
Program Evaluation: Establishing impact and process evaluation objectives and plans for both energy efficiency and renewable energy programs; statistical sampling and probability analysis; cost-benefit analysis; defining baseline scenarios; calculating energy and demand; conducting sub-metering and energy monitoring studies.
Representative Project Experience
Platte River Power Authority (PRPA) – Large Customer and Energy Management Programs (2020-present)
The Large Customer and Energy Management programs for PRPA includes a variety of offerings such as free building assessments, energy advising, and energy management for customers who desire to have a year to year plan to implement upgrades. The offering is targeted to large commercial and industrial customers within the Estes Park, Fort Collins, Longmont, and Loveland territories. Audrey has implemented a variety of new features for the program with the 2020 program roll-out. These updates include a new assessment template, updated metrics reporting, streamlined internal program management, as well as other process improvements. Additionally, amid the COVID-19 pandemic, Audrey has created a strategic plan to assist customers remotely and provide engineering support in their time of need.
Consumers Energy – Building Tune-Up Retro-commissioning (RCx) Program (2019-present)
Audrey currently serves as the program manager for the new Consumers Energy Building Tune-Up RCx program. In this role, she has worked with the current implementation vendors to develop a partnership for all program aspects, including data sharing, marketing, outreach, and trade ally management. Since this is a new program offering for Consumers Energy and Nexant, she has created work plan manuals, process flows, marketing plans, outreach plans, and training documents for the new and existing employees who will be supporting the program. Overall, her program management skills have allowed the ramp up process to be well organized and focused. She has remained flexible during the pandemic to shift goals to building a customer pipeline and trade ally relationships while on-site work is suspended.
Georgia Power Company (GPC) – Grid Interactive Water Heater Demand Response Pilot (2017–2019)
Audrey provided the strategic vision and leadership for GPC's water heating demand response pilot program, including program goals, customer incentives, selection of vendors, marketing and recruitment of participants, oversight of installations, management of the DER platform vendor, evaluation vendor, and reporting out on the pilot to various internal management teams. This pilot was implemented to test effectiveness of winter and summer WH DR, potential to utilize WHs as a battery, to better understand how customers interacted with their WH and the measured impact to customer's hot water availability. Overall the program successfully achieved the set pilot goals.
Georgia Power Company (GPC) – Bring Your Own Thermostat (BYOT) Demand Response Pilot (2017–2019)
For the BYOT pilot Audrey was the program manager, overseeing all aspects of the pilot program from marketing recruitment to evaluation of the pilot. This pilot also targeted both winter and summer for demand response impacts. GPC worked with one thermostat vendor to assess the viability for a full market roll out in 2020. This pilot was implemented to test effectiveness of winter and summer thermostat DR, to understand how customers viewed the ease in the participating in the pilot program, and if they would participate through an entire event. The pilot has very high customer satisfaction ratings and also caused customers to have a higher opinion of Georgia Power overall, due to the ease in participation and the minimal impact to customer comfort. In addition, this pilot resulted in a better than expected overall kW impact. This pilot became a fully certified program for Georgia Power and was launched in 2020.
Georgia Power Company (GPC) – Marketing Strategic Lead (2016–2019)
As a program manager for GPC, Audrey provided management of all marketing efforts for both the commercial and residential energy efficiency programs. The commercial and residential portfolio had an annual goal of over 366 GWh and marketing played a key role in achieving the annual goal. This involved creation of a strategic marketing calendar for each energy efficiency program, creation of a new marketing process (documenting the process for creation of new marketing materials utilizing a new program management tool), reviewing all marketing materials to ensure accuracy of energy efficient messages, and ensuring energy efficiency was included in company-wide marketing channels when appropriate.
Georgia Power Company (GPC) – Rooftop Solar Program (2014–2016)
While working as a Renewable Energy Analyst at Georgia Power, Audrey had the opportunity to create a new program for customers – the Rooftop Solar Program. The goal of this program is to create a custom solar analysis for customers interested in installing solar and then review those results with the customer before they make the purchase thus allowing the customer to make a well informed decision with their specific energy usage and utility rate. The program initially targeted residential customers and then grew to include commercial and industrial customers to accurately reduce their 8,760 load shape from the estimate solar load shape therefore providing accurate bill savings. Utilizing the process and calculations Audrey designed and updated, customer had the most accurate estimate of bill savings from solar. In just one year, Audrey and one other Solar Expert created solar analyses and reviewed those analyses with over 1,000 customers.
Georgia Power Company (GPC) – 2013 Integrated Resource Plan (IRP) (2011–2013)
Audrey played a key role in the development of the eight energy efficiency programs for the 2013 Georgia Power Integrated Resource Plan (IRP) through review of the potential study, economic tests, and reviewing ideas with the Energy Efficiency Program Managers for their experience. Additionally, she managed the regulatory process for the energy efficiency department. This included briefing cards, witness preparation, and responding to data requests from the Public Service Commission (PSC). She also assisted with the broader IRP data requests as well, ensuring they were delivered on time, with the proper procedure, and were accurate.
Southern Company – End Use Evaluation Project (2010–2011)
Audrey provided project management of an end use technology evaluation project while working as a Load Research Analyst at Southern Company. The project tested various sub-metering equipment to determine which were most accurate for enhanced load research data samples. As a Load Research Analyst, Audrey analyzed and developed balanced loadshapes for rate cases, and her work was used in the successful 2010 Georgia Power Rate Case.
Mississippi Power Company (MPC) – ecoSwitch Demand Response Program (2007–2009)
Mississippi Power contracted with GoodCents to design, implement, and evaluate a direct load control program, which Audrey managed all aspects for the client. She worked with the utility to design the program, which was focused on summer demand shifting, helped to create marketing materials, recruit customers, and then evaluate the program. She worked in SAS to build the regression models to show the program's success which achieved 0.98 to 1.44 kW based on outdoor summer temperature.