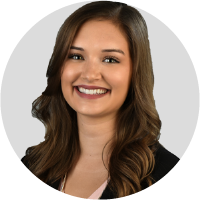 Michele Czosnwoski
Marketing Account Executive
Michele Czosnowski is a Marketing Account Executive, as well as one of our digital marketing and event management experts in Nexant's Utility Services business unit located in the Louisville, Colorado office. Michele focuses on implementing strategic marketing solutions for commercial and residential utility sponsored energy programs. Her primary role is a project manager for marketing materials and email communications for utility programs. Michele also assists with event planning and coordination, ensuring a positive and seamless experience for service providers and customers alike. Michele's most notable experience includes strategically managing effective email communications and design efforts for an award-winning school campaign for the Vectren Prescriptive Gas Program.
Areas of Expertise
Marketing Collateral Development: Creates a variety of email marketing communications and print and digital collateral for utility clients.
Brand Standards Compliance: Understands and applies established brand standards to new collateral and media.
Event Management: Works with program teams to plan and execute program events, including presentations, logistics, day-of management and evaluation.
Software Specialties: Specializing in numerous applications including Adobe Acrobat DC, Adobe Illustrator, Adobe InDesign, Microsoft Word, Outlook, Excel, PowerPoint, G-Suite, Campaign Monitor, Qualtrics, and Cvent.
Representative Project Experience
Michele contributes to program teams by assisting with the implementation of creative marketing solutions for a wide range of program types, including commercial, industrial, and residential programs. Michele coordinates projects from start to finish, including:
Content development and design for articles, advertisements, case studies, program brochures, newsletters, html and responsive emails, presentations, surveys and other materials for utilities, their trade allies, service providers, and customers.
Collaboration with trade allies, service providers, clients, and community organizations to bring the program to eligible customers.
Coordination of projects to develop engaging and unique program and campaign collateral.
Relevant Clients and Programs
AEP Ohio (2016–2017)
CenterPoint Energy (previously Vectren Energy Delivery) (2016–Present)
Commonwealth Edison (2016–Present)
DTE Energy (2016–2020)
MidAmerican Energy Company (2016–Present)
Southwest Gas (2016–2018)
Salt River Project (2016–Present)