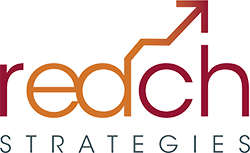 REACH Strategies
Partner Profile
REACH Strategies has been a national leader in designing and executing corporate, utility, and statewide electric vehicle outreach campaigns since the reintroduction of modern, highway-ready light-duty passenger PEVs to the United States in 2011. Our work has extended across the country from designing state-level EV policy and programs, to conducting direct consumer engagement projects with EVs at large corporate campuses to public fairs and festivals, to constructing multi-faceted state-level engagement campaigns. Our efforts across these campaigns were highlighted by the US Department of Energy Workplace Charging Challenge program and helped shape the Bay Area Experience Electric campaign. In addition to our ongoing work in California, REACH Strategies is the lead implementation partner for Mass Drive Clean, the nation's longest-running state-supported PEV outreach campaign.
Representative Project Experience
A summary of REACH Strategies' relevant projects includes:
Content development and design for articles, advertisements, case studies, newsletters, html emails, presentations, and other materials for utilities and their service providers.
Collaboration with clients, engineers and contractors to convey technical information in a way that is palatable and easy to understand.
Generation of high-level social and campaign themes as well as individual content executions.
Coordination of projects to develop program and campaign collateral.
Relevant Clients and Programs
Recharge Minnesota (2017-Present)
For the past four years REACH Strategies has worked with the national non-profit Recharge America to launch state-based programs that spotlight leaders in EV adoption. We include examples from one campaign, Recharge Minnesota, in our proposal package, and another example from Massachusetts can be found at MasssEVolves. For these campaigns, REACH works in collaboration with Recharge and a range of state-based partners – including utilities like Xcel in Minnesota, community-based organizations, businesses, educational institutions, and others – to develop and implement a marketing campaign and recognition program to accelerate the use of electric and clean vehicles, particularly as it relates to supporting local economic development. The program recognizes the work of top companies, schools, civic leaders, and others in Minnesota who support the use of EVs for their operations, employees, and communities. Program participants make specific commitments for spurring EV adoption and sharing their lessons learned and experiences with others. Communities participating in the work feature some of the highest per capita rates of EV fast charging in their states, participants have committed to some of the largest public and private EV charging installations in their regions, and have aggressively worked to incorporate EVs into their business, fleet, and even personal use. Recharge America is an initiative slated to roll out over additional states over the coming years.
Google Environment Day (2017–Present)
This project leverages REACH Strategies' capabilities in EV infrastructure deployment and ability to evaluate, design, implement, and manage programs aimed at spurring greater EV utilization. Deliverables included an analysis of program options, site plans, a 50-page technical document supporting project permitting processes, a complete suite of project-related data developed from project survey instruments, and a final report. Google Environment Day is a private, employee-only event at Google's Mountain View, California, headquarters. The day was first envisioned by REACH Strategies as a model employee engagement exercise and has grown to be one of Google's favorite engagement offerings for its employees. An EV ride and drive is offered as part of a comprehensive day of engagement on a host of sustainability choices available to consumers, ranging from home energy management to lifestyle products. Googlers give the day a 100% satisfaction rating, underscoring the potential for well-crafted sustainability fairs to spur consumer engagement on a variety of topics, including PEVs.
Commonwealth of Massachusetts – Mass Drive Clean (2016–Present)
REACH Strategies helped the Commonwealth of Massachusetts develop its first-ever statewide PEV outreach campaign, targeting a mix of large employers and community fairs across eight events. REACH developed the plan and strategy for the campaign, securing sites for the events, developing messaging, creating a design footprint, and developing and finalizing a survey tool to use across the campaign events. Survey data showed more than 80% of participants in events are first-time PEV drivers. After their initial EV experience, more than 10% convert to driving electric within six months.
Commonwealth of Massachusetts – MassEVolves (2018–Present)
REACH Strategies led the design and implementation of MassEVolves, one of the nation's first state-based EV recognition programs for corporate and university leaders who take specific steps to spur EV adoption. MassEVolves encourages, supports, and recognizes private sector investments in transportation electrification for their operations, employees, and communities. EVs include battery electric, plug-in hybrid electric, and fuel cell electric vehicles. MassEVolves supports companies in achieving their zero-emission vehicle goals by providing information resources, sharing relevant experiences and, when appropriate, mentoring others. Participants pledge to create a Zero Emission Vehicle (ZEV) Action Team and ZEV Action Plan that includes implementing one or more ongoing programs to help more people gain access to clean transportation and report on their progress in implementing the plan.